Welcome To Steve's

Meat Shop
Steve's Meat Shop started in 1980 and is family owned and operated by the Fowler Family. We are a USDA meat shop manufacturer that makes all of our unique and exclusive products. We prepare and serve all of our products fresh at events for our customers.
Services
We are a professional concessionaire company providing onsite grilling at large events like the following:
State Fairs
County Fairs
Car Shows
Farm Shows
Festivals and More
Steve's Turkey

TeePee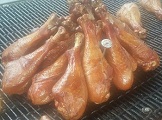 As Turkey Legs get done they go to the Tee Pee.
Health Inspected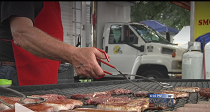 Emma Hogg with KWQC did a story about the Scott County Health Department Inspecting Food at the 2016 Mississippi Valley Fair and Steve's Meat Shop was the booth inspected on camera.
Streetfest Tested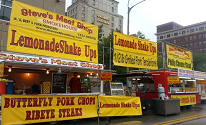 Pauli Mayfield with News 8 WQAD reported on the 2012 Bix Streetfest food and Steve's Meat Shop was mentioned for our Ribeyes and Pork Chops.
Ribfest Invested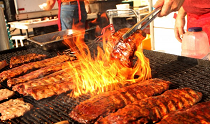 John Schultz with the QUAD-CITY TIMES posted this article on Aug 16 2013 at the Ribfest where our grilled ribs were flaming.
More Requested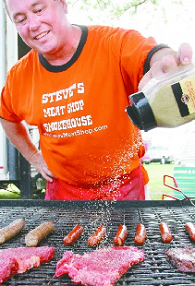 Kevin E. Schmidt with the QUAD-CITY TIMES wrote an article on August 2 2011 about Steve's Meat Shop at the Mississippi Valley Fair.